From reducing maintenance requirements to adding redundancy and security to business infrastructure, hybrid cloud managed services are an ideal way for businesses to utilize the benefits of cloud computing while minimizing risk. Recently at TechTarget, John Keagy of GoGrid predicted that hybrid cloud services would become the standard way to manage and maintain cloud services for many businesses.
As offerings continue to mature, adoption of IaaS and IT managed services are likely to increase, and the benefits of infrastructure-as-a-service … Click here to read more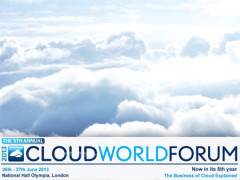 5th Annual Cloud World Forum in London, June 26 and 27, 2013 is a must-attend for IT decision makers and cloud enthusiasts. With a lineup of authoritative figure in IT and cloud technology, this event can offer you off-the-stove guide for your business' cloud adoption. If you are a cloud professional or cloud business owner, Cloud World Forum will help you strategize your growth, as well as tapping on to the latest cloud trends.
If you are curious about what … Click here to read more
Modern x86-based computer systems have changed the landscape of data centers. Giant supercomputers are no longer required to store massive amounts of data. As a result, data centers can be built smaller, and more efficiently, while still maintain the necessary storage and computing power that clients required. Most IT firms have access to the hardware and software needed to build a modern data center.
Virtualization has also helped to expand the usefulness of data centers. Even most major enterprise-level software … Click here to read more
Product or service demonstrations that require visual contact are an excellent fit for video conferencing, one of the newer features available with a Cloud-based Hosted PBX solution. A sales representative demonstrating a new smartphone to a corporate customer can now easily show him/her the benefits of the device, visually and in real time.
Another highly beneficial application of the technology is increased ease of screening prospective new employees.  Where in-person meetings are not convenient or where managers are tasked with … Click here to read more
The availability of cloud tools today has made entrepreneurs' life easier to quickly launch a business and/or product. Indeed, they made "lean startup" possible. But what is it, anyway?
Lean startup is an approach to shorten product development cycles, progress measurement, and feedback collection. Initially developed with tech startups in mind by Eric Ries back in 2008, the lean startup principles can be now adopted by any businesses and individuals to quickly launch new products/services into the market.
More often … Click here to read more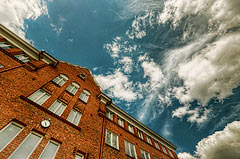 While many parents are protesting on the possibility of having their children private data shared with non-profit inBloom Inc., developed by education service provider Amplify, funded by The Gates Foundation and News Corp., we can't deny the fact that schools need a way to handle big data.
You see, student and teacher data is huge. Analyzing school's Big Data will bring great benefits, such as discovering new ways to improve student learning process, and so on.
That is at least … Click here to read more