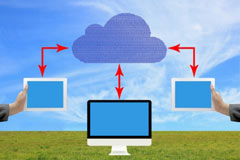 Cloud storage can be great for your business because it allows you to scale up whenever you need it and the network interface is often very flexible. At the same time, there are many things that you need to think about and prepare before your files can be moved to the cloud network.
You need to think about security and pruning your current files to ensure that you save money. You must also think about finding the right provider for … Click here to read more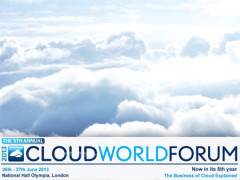 5th Annual Cloud World Forum in London, June 26 and 27, 2013 is a must-attend for IT decision makers and cloud enthusiasts. With a lineup of authoritative figure in IT and cloud technology, this event can offer you off-the-stove guide for your business' cloud adoption. If you are a cloud professional or cloud business owner, Cloud World Forum will help you strategize your growth, as well as tapping on to the latest cloud trends.
If you are curious about what … Click here to read more
Cloud computing continues to grow in popularity as a way for companies to reduce costs. Companies can cut costs by paying only for the time they actually use different hardware and software. They also save by not having to maintain hardware such as servers in facilities that need dedicated cooling systems, run up large electric bills and require specialized staffing. But many companies worry about using the public cloud because they fear that sharing resources with other companies can pose … Click here to read more
The availability of cloud tools today has made entrepreneurs' life easier to quickly launch a business and/or product. Indeed, they made "lean startup" possible. But what is it, anyway?
Lean startup is an approach to shorten product development cycles, progress measurement, and feedback collection. Initially developed with tech startups in mind by Eric Ries back in 2008, the lean startup principles can be now adopted by any businesses and individuals to quickly launch new products/services into the market.
More often … Click here to read more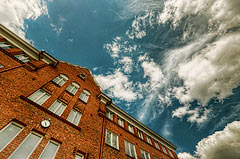 While many parents are protesting on the possibility of having their children private data shared with non-profit inBloom Inc., developed by education service provider Amplify, funded by The Gates Foundation and News Corp., we can't deny the fact that schools need a way to handle big data.
You see, student and teacher data is huge. Analyzing school's Big Data will bring great benefits, such as discovering new ways to improve student learning process, and so on.
That is at least … Click here to read more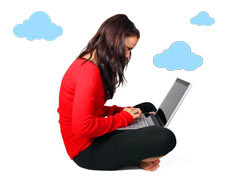 Freelance IT contractors have several costs that they have to incur. Equipment can be very expensive and this includes the cost for servers and hosting, as well software to help you with your projects. One way to combat this cost is to opt for cloud computing. While relatively new to the freelance world, this breakthrough technology offers a number of benefits and can be a very cost effective approach to getting the resources that you require.
Before you choose this … Click here to read more